Lightweight Camping Trailer
We took everything we love about tent camping and made it more comfortable, more spacious, and dare we say, more fun.
lightweight pop-up camper sleeps 4+ with tent pod, gear deck, equipment rack, and storage box
Haul gear, cargo, equipment
Integrated roof rack system
Tow with smaller vehicles
Spacious pop-up tent camper
Smooth riding torsion axle
Ultralight maneuverability
Powder coated aluminum
Heavy duty tent materials
Premium construction
Bring the boats AND the bikes! Maximize your adventure with a roof rack system that integrates with your current equipment.
low 53″ loading height (lower than most car roofs)
165 lbs. carrying capacity
The tent pod of the GO is a custom thermo-formed ABS plastic that is extremely durable, UV resistant, and completely waterproof. Shaped for aerodynamics and sized to be able to store the tent, table/bed panels, and sleeping pads.
Tent deploys and retracts from the hinged case which is mounted below the equipment rack.
sleeps up to 4 people
standing height 6' 5"
80" long by 116" wide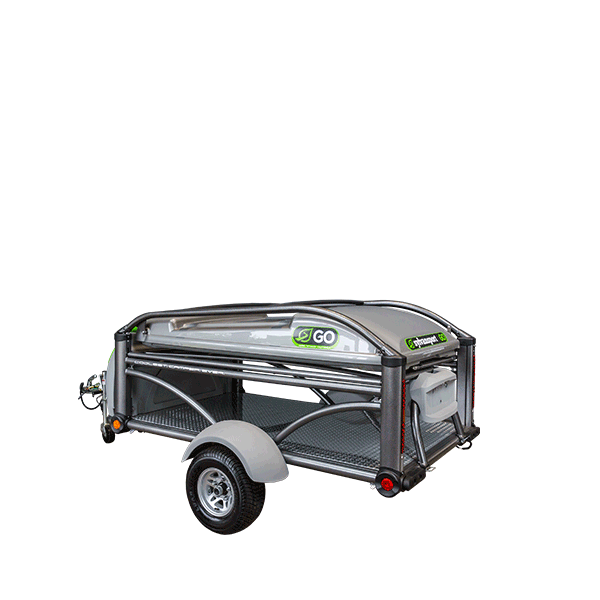 Totes, coolers, gear… with the GO, you can bring it all! Camping is fun when it's comfortable. Go further and stay longer using the tow vehicle you already own. 
cargo area height expands from 17" to 48" with a simple hand crank
deck size 48″ wide x 84″ deep
max carrying capacity 810 lbs.
Your ground tent can't do this! The GO features a spacious, elevated, waterproof tent that sets up fast and has multiple comfy dining and sleeping options. Configurable components allow you to quickly switch interior setups for dining, sleeping, and playing that suit the moment.
dining table seats 4+
2 XL twins (80" long by 34" wide) or 1 king plus (80" long by 116" wide)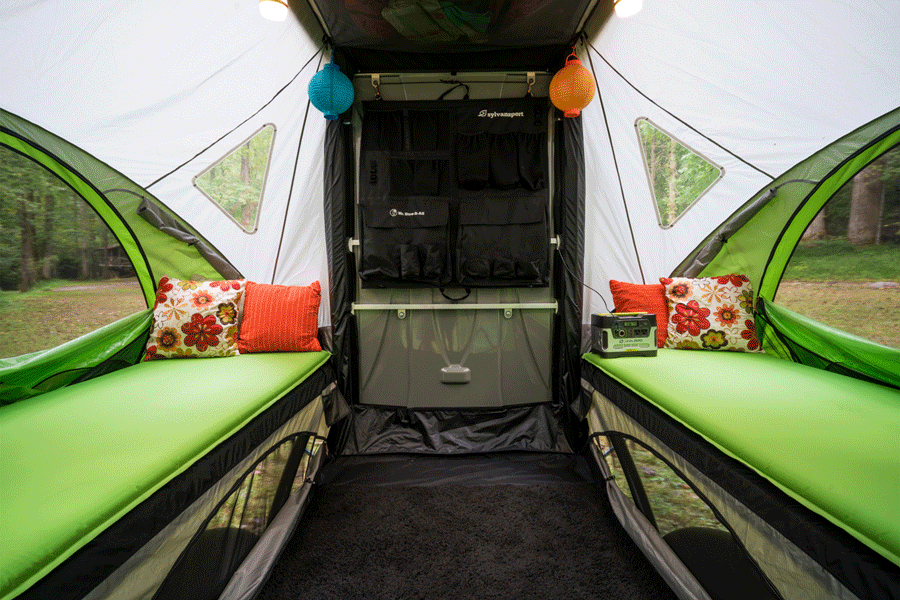 The GO utility and camping trailer uses high quality, proprietary aluminum extrusions to create an incredibly strong, yet lightweight frame. This allows the GO to be extremely fuel efficient, durable and most important, corrosion-free, so it won't rust. At just 840 lbs. the GO is an easy-to-use, lightweight camping trailer that can be towed with almost any vehicle.
Aluminum is much more difficult to work with than steel and requires a much higher level of skill to obtain perfect welds. Our welders are highly trained and skilled craftsman in the art of TIG welding, resulting in GOs that are made to last a lifetime.
Two of the most important factors that determine ride quality of a trailer is the axles and wheels. Every GO pop-up tent camper comes with cast aluminum wheels and Dexter Torsion Axles to provide a more stable and dampened ride, enhancing control. Because the GO is such a lightweight camping trailer, the use of a standard leaf-spring suspension would result in a bouncy and less controllable ride.
The tent material of the GO is 210-denier ripstop polyester (body) and 210 denier oxford nylon (floor) fabrics, 3x heavier duty than traditional family tents. The waterproof tent is stitched and seam-sealed, so there is no need for an additional rainfly. 3-way doors and windows (screen, clear weather protection & privacy), as well as strategically placed ventilation, allows you to control the airflow within the GO.
The diamond plate deck of the GO is specially reinforced and is an important structural part of the trailer. Its aluminum construction is lightweight, durable, and corrosion-resistant deck and the raised surface pattern provides slip-resistance for you and your cargo.
While not necessary, SylvanSport goes the extra mile and applies a heavy-duty powder coated finish to the GO utility trailer camper. This helps keep your hands clean from handling raw aluminum and gives it an extra layer of durability from straps, bumps, and general use. And, we think it looks pretty sharp, too.
3 WAYS TO GO.
WHICH ONE IS RIGHT FOR YOU?
3 ways to GO. Which one is right for you?
equipment rack
crank handle
8 frame pins
tent pod
3 tent poles
2 bed panels
4 sleeping pads
4 bed support poles
2 table panels
gear deck
tailgate step
tailgate bungee
storage box
2 storage box keys
stabilizer jack rod
4 ratchet straps
* Sleeping pads in Base package are upgraded to the Cloud Layer mattresses in the Big & All Out packages.
$15,495
PACKAGE SAVINGS $940
everything in GO BIG, plus…
* Sleeping pads in Base package are upgraded to the Cloud Layer mattresses in the Big & All Out packages.
$17,495
PACKAGE SAVINGS $1,800
"I love how easy it is just to 'GO' with our camper. We have taken several last minute camping trips where we were just talking about camping and 30 minutes later we were on road to the middle of nowhere. The GO camping trailer has made camping accessible to any location with tons of comfort for our whole family - 2 adults 2 children and 1 awesome dog!"
"Getting outside and spending time in nature is as seamless as hitching up the Go and heading for the woods. Our set up allows us off-the-grid camping. We have the second GO ever manufactured and it just keeps keeping on!!!"
"Absolutely love the simplicity and modularity of how all the GO, and all of the accessories work so well together to create the best camp site! We use our GO on camping trips throught the ear and even when we aren't camping we use it to transport our kayaks on top and it's all so easy!"
"We LOVE our GO Camper! It is so easy to tow with our Subaru and the set up is a breeze. Once you are set up, it is amazing how versatile it is and can accommodate our family of 2 humans and 3 dogs. We also use it as a trailer and have moved with it, carried our boat, bikes etc. Great purchase! We also love the customer service from SylvanSport and the friendly community of GO owners."
"The weekend after picking up our GO with the GO Big package at the factory after only seeing it online - we headed out on a 10 night trip up north. Every night setting up and every morning taking it down we very quickly realized the GO is a very well-engineered product. And with me being 6'3" I have finally found a camper that fit me!! We love it!"
Intentionally designed and manufactured since 2004.
We believe it is our responsibility to create high quality outdoor products while leaving as small a footprint on our environment as possible. From the initial design of the GO camping trailer to material selection and sourcing, every decision that is made on the GO is intertwined with the impact it will have on our environment.
We intentionally designed a camper that is lightweight and aerodynamic. At only 840lbs, owners of smaller, more fuel efficient, and electric vehicles can enjoy a camper without the need to purchase a larger vehicle. And with the GO's light weight and low profile design, vehicle efficiency is minimally effected.
We use aluminum for the frame, tongue, rack, and deck of the GO, not only because it is durable and lightweight, but also because aluminum is one of the few materials that is infinitely recyclable. No matter how many times you reuse it, it retains its structural properties allowing us to keep our commitment to creating a high quality product that it also more sustainable for the future.
We work with as many local suppliers as we can to practice low impact manufacturing. Our sourcing philosophy has always been to look within our community first, then our state, our region, and beyond. About 80% of the GO is sourced within 75 miles of Western Carolina – helping to decrease carbon emissions.
Designed, engineered, and manufactured
in Brevard, North Carolina.